The Silver Jubilee of Elizabeth II took place on the 7th June 1977 and marked the 25th anniversary of her ascension to the throne. Over a million people lined the streets of London to see the Royal procession, with an estimated five hundred million watching on television from the rest of the world. Whilst the festivities were long-lasting and many took part, this article will instead look at the impact that the Jubilee had in popular culture, specifically the infamous Sex Pistols' song God Save The Queen.
The Sex Pistols were an English punk rock band formed in 1975. They're music was renowned for its outspokenness and advocacy of sex and drugs. The Rock and Roll Hall of Fame voted them in the top 10 most influential acts in the history of popular music. Their song God Save The Queen was released outside of Buckingham Palace to coincide with the Silver Jubilee celebrations. The purpose of the song was to attack social conformity and support of the monarchy. The satirical song was banned by many broadcasters, including the BBC. Nevertheless it was a huge success, selling over 150,000 within the first fortnight following its release.
The song was incredibly controversial in that it likened the monarchy with a 'fascist regime' and claiming that the Queen 'is not what she seems'. Despite the drummer of the band claiming that "It wasn't written specifically for the Queen's Jubilee. We weren't aware of it at the time. It wasn't a contrived effort to go out and shock everyone", the song was still used by many as their challenging of the establishment. Indeed the Socialis Workers Party adopted the song as their anthem in their 'Stuff the Jubilee' campaign. This campaign criticized the high cost of the Jubilee at a time when there had been cuts in the public sector and climbing unemployment rates.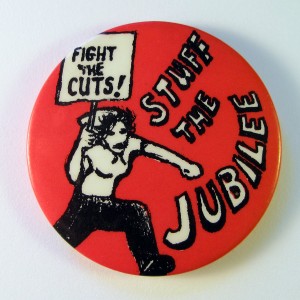 Perhaps the members of the band genuinely weren't intending to invoke the reaction that they did with the song, however their hiring of a boat down the River Thames past the Houses of Parliament and Westminster indicate that they were clearly trying to encourage a response. Nevertheless their song has been interpreted as a rebellion against politics and demonstrates the cultural rejection of the establishment and all the values it stood for. Its popularity demonstrates a growing lack of respect for hierarchy and the changing morals of society.